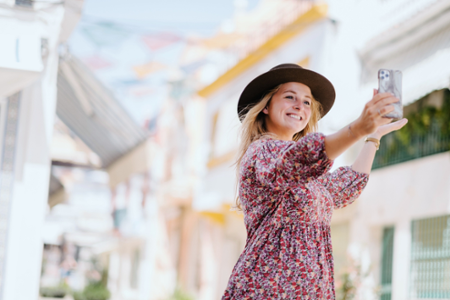 Transcom created an irresistible job offer with relocation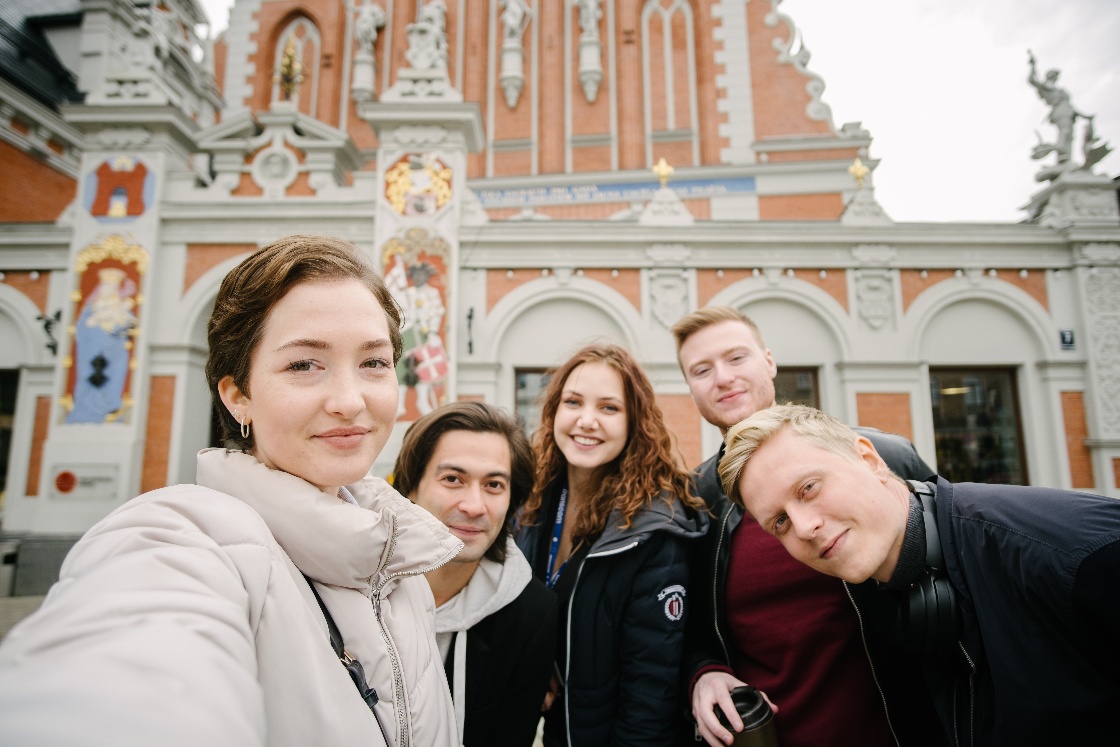 About Transcom
Transcom
is a worldwide specialist in customer experience, providing CX advice, customer service, sales, technical support and collection services.They do this with 30,000 people in 26 countries and 33 languages. Transcom has a branch in Groningen in the Netherlands, while the head office is in Stockholm, Sweden.
Ambitious plans
Let's go back to 2020.Transcom Netherlands was looking for a large number of employees for the contact centre in Groningen. While they were previously able to fill job openings with the help of employment agencies, this was becoming increasingly more difficult. A shortage of call agents has direct consequences in the workplace, such as longer waiting times and lower customer satisfaction. They wanted to prevent that from happening. So something had to change.
Christa Buss, Head of Talent Acquisition Central Europe van Transcom says:
"I wanted to move some of our Dutch-language jobs to Spain. The work can easily be done anywhere, and candidates can perfectly combine a job in a call centre with a longer period abroad.I was looking for a way to make our vacancies more interesting and appeal to a new, wider audience."
"I thought a Spanish adventure would be the perfect solution, though there were still a few snags. After all, how should we approach recruitment? In addition, I still didn't have my stakeholders on board, and I wanted to change that quickly - my aim was a widely supported decision to go in a new direction. And I heard through the grapevine that Jobsrepublic is a high-quality, fast and pragmatic group."
"The cost per hire has been halved and we can stear the inflow of candidates!"
The adventure in numbers
28,144
Visitors to the website
Getting started with the business case
We love a good challenge at Jobsrepublic. And we think it's even better when companies themselves think outside the box.That was certainly the case at Transcom. We started by building a strong business case to bring all the stakeholders (national and international) on board. We took our time when we did that, not only because we really wanted to make something beautiful but also because we had to deal with a range of cultural differences among the stakeholders. Our extremely solution-oriented approach, and a rock-solid recruitment strategy were ultimately the deciding factors.
Quite a challenge
Of course, it's not surprising that Transcom has had difficulty filling the job openings. They were seeking a large (and ever increasing) number of customer service representatives during a time of very low unemployment, declining popularity for this type of work and relatively high personnel costs. Those are three good reasons to look elsewhere.
The relocation to Spain offered a lot of new possibilities. This meant that people could be recruited from all over the Netherlands instead of just in Groningen, where the Dutch office is located.Previously, Transcom had outsourced recruitment to employment agencies, and now they had hired an experienced recruiter with knowledge and expertise in recruiting high volumes in the call centre industry. Next step: working on the employer brand and identifying the ideal candidate.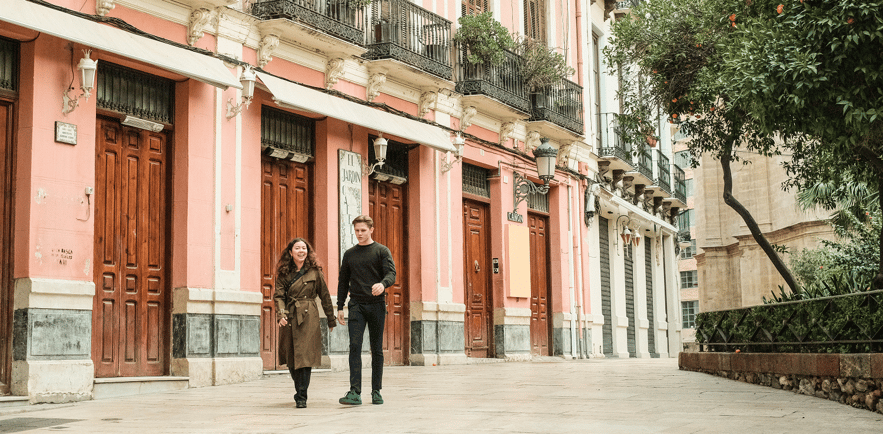 Developing a recruitment strategy and the decisions that go along with it are often financially driven in the end.Transcom could have followed the usual route by posting the Dutch-language vacancies in Spain through employment agencies throughout the Netherlands. Or they could have gone the safe route by working with expensive solutions where you pay a fee per new employee and provide more certainty in the short term. Instead, they chose to take the reins into their own hands. To build a strong employer brand together with us and tackle recruitment completely internally – and ultimately for their own benefit.
Research: who are we looking for?
If you want to recruit the right people, you must understand how those people work. What they're looking for in their work, why they would choose you as an employer, and why they would be happy to continue working with you. That's where we started. In January 2021, we talked with several current employees in Groningen who were interested in Málaga.In a three-hour session, we mapped out the value proposition of the position, with triggers and motivations.
We were able to identify two clear target groups:
Young adults (18-25 years) who were taking a gap year before, during or after their studies. Young people who wanted to get away from it all and experience a longer period abroad. They wanted freedom, to do fun things, and to get to know new people.

Adults (30+) who were in a phase of life where they wanted to start something new. These were people with life experience looking for adventure or who wanted a change of pace but who also valued job security.
In our conversations with Transcom employees, we also heard that the employees put a lot of value on diversity. That is what we have aimed for: equality, team spirit and plenty of space to be yourself. And room to grow: "Opportunities for promotion have been a focal point from the start," says Christa "Of the previous employees hired through an employment agency, quite a few have gone on to become trainers or team leaders.We think it's important to have people form a longer commitment to us, which means you also have to have something to offer them. So we are focused on that."
Cost Per Hire halved
We have developed a series of campaigns based on the different target groups. Potential candidates are approached through various channels, and they can also register in various ways. "We have used job boards such as Indeed and online recruitment marketing. We also got a lot of good leads and employees from our referral campaigns, and several Dutch employees have left for Spain. We also recruited locally: almost 7,000 Dutch people live in Málaga, and we consciously targeted them as well. The collaboration with Jobsrepublic ultimately accounts for 65% of all new candidates.
It worked so well that we are currently working on a second location in Spain, in Torremolinos. The cost per hire has been halved, making recruitment far more manageable. We adjust to our approaching training days: we intensify the campaigns if we still have free places. Once we've reached the maximum number of registrations, we'll put the campaign on a temporary hiatus for a while. This way, we always have the desired number of candidates, and we handle our budget efficiently," says Christa.
Our Customer Success Manager Rosalie Koppes adds, "Because the Dutch campaigns worked so well, we also set up campaigns for several other countries. People in Norway, Sweden and Denmark were eager to get to know our team, and we're now running campaigns for Málaga in those countries. As a result, Swedes, Norwegians and Danes are now working alongside our Dutch employees in the Spanish contact centre."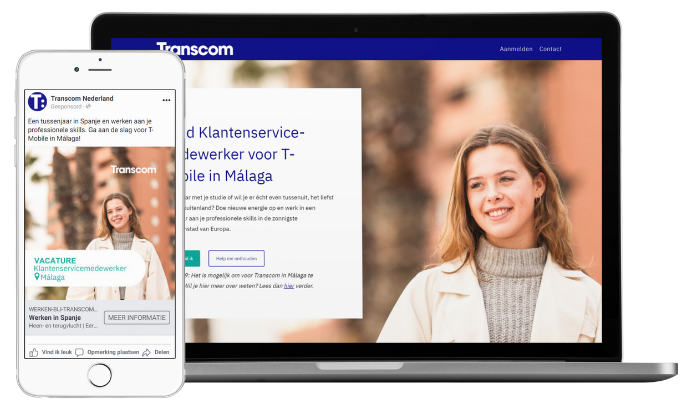 Internationally scalable solution
One of the best parts about this way of recruiting and the set-up of the campaigns? It can be used for every region, making it a highly scalable solution. Transcom is so satisfied with the results in Málaga that we have been able to develop a similar approach for Danes, Norwegians and Swedes who would like to work in Riga. It's a slightly different approach: you don't choose a year in Latvia for the warm climate, but an affordable life, a beautiful historic city and a rich culture. For example, for Scandinavia we have identified a number of target groups who are very happy with that, which works just as well.
Employer Brand Upgrade
Apart from the success in filling vacancies, we also saw positive effects on Transcom's profile as an employer. Where Transcom previously had no employer brand, it has now developed a very clear personal brand with character, a story, and a large stock of material that can also be used elsewhere. This has made recruiting easier and more predictable.
"The collaboration with Jobsrepublic is running smoothly.For our part, planning is sometimes quite hectic - we work with offices in different countries, decisions often have to be taken on different levels. It's all or nothing; there is very little in between. Jobsrepublic handles that well; they are always there when I need them. The whole team has a pleasant mentality, helpful and knowledgeable. I'm very pleased."
-Christa Buss, Head of Talent Acquisition Central Europe - Transcom
Direct advice for your challenge
Pick the brains of our experts in a 30 minute session
Schedule a meeting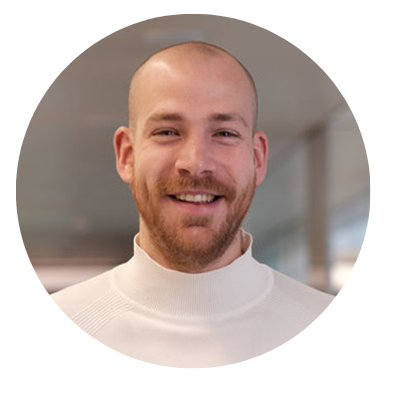 Coen Kooyman
Recruitment Marketing Expert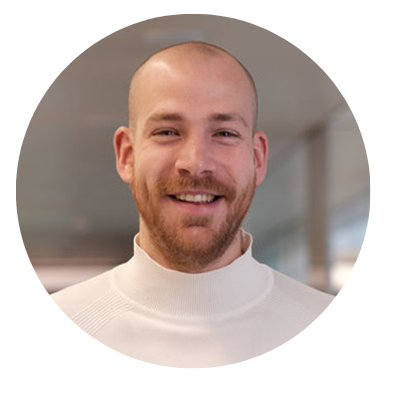 Coen Kooyman
Recruitment Marketing Expert